CURRENT STATE OF THE U.S. INDUSTRIAL & LOGISTICS SECTOR Q'1 2019
| Market Trends
June 20, 2019
According to a recent CBRE report, "The U.S. industrial & logistics (I&L) sector retained strong market fundamentals in 2018, driven by growth in consumer spending, business inventories and industrial production."  This led to an overall U.S. vacancy rate of 4.3% at the end of Q'3 2018. According to the same report, "Demand has exceeded supply for nine consecutive years by an average of 94.1 million square feet."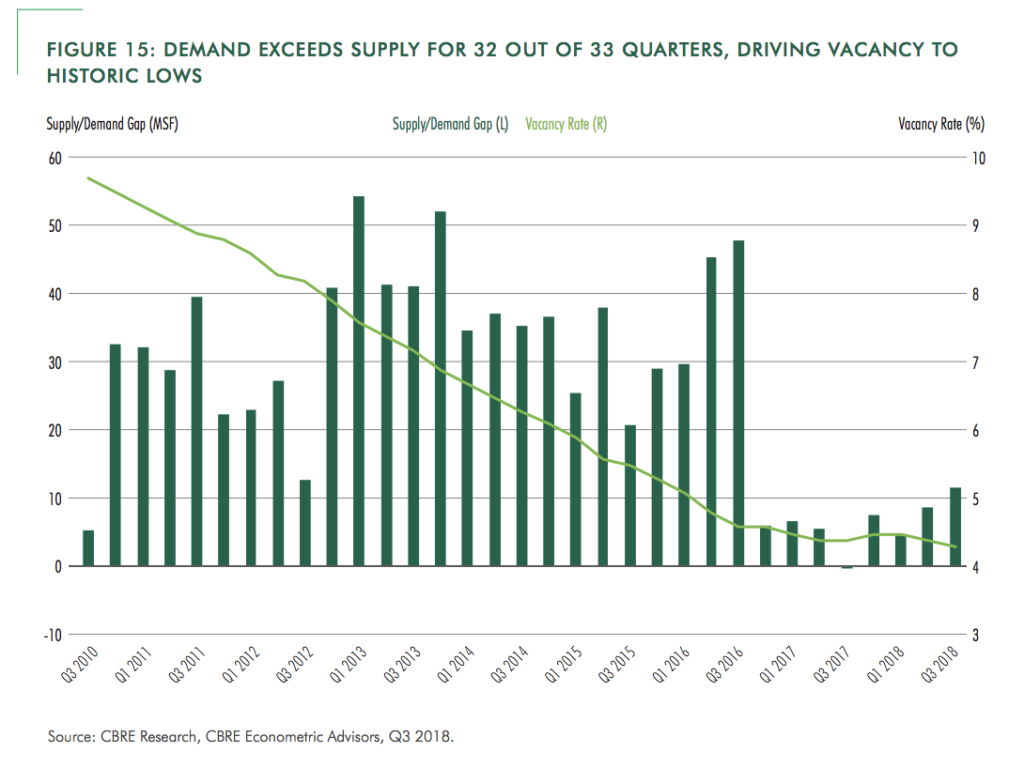 Most experts are predicting a similar strength for 2019, based on the continued integration of logistics and retail space as an ever-increasing percentage of the retail sales migrate to eCommerce channels, and traditional retailers look to strengthen their eCommerce footprint in omni-channel executions.
This demand driver has led to increased lease rates across the board in major metros in the U.S.  In the gateway markets with tight infill dynamics the results have been even more pronounced, with areas like the LA Basin feeling some of the greatest surges in lease rates with a year-over-year increase of approximately 7.5% from Q4 2017 to Q4 2018. For new product in the Central Market of LA, lease rates over the past two years are up approximately 80%.
Industry experts believe the capital markets picture also continues to be strong for the I&L sector with strong investor interest, especially in high quality metros for class A industrial space.  According to industry experts the outlook for cap rates is expected to remain at current levels in 2019 barring any unanticipated economic externality or "Black Swan" events.
Industry experts also believe that the economy will cool slightly in 2019, which should help close the supply-demand imbalance into 2020. New construction coming online will also contribute to narrowing the gap. Developers in the U.S. brought 57 million square feet of new warehouse construction online in the fourth quarter of 2018, a 6% increase from the prior three-month period, according to the CBRE report. Even with planned construction, Xebec is actively seeking investment and development opportunities in targeted metro's nationwide, including Qualified Opportunity Zones (QOZ's).  Xebec is currently working on several assets that are anticipated to provide investment opportunities for the current family of Xebec investors in QOZs.